Tine Furler

geboren 1972 in Offenburg, lebt in Berlin
Crazy Crafts Lady: The Owls, 2023
Wolle, Holz, Federn
18 Unikate, ca. 35 x 20 x 5 cm
je 450 €
Anfrage
/
request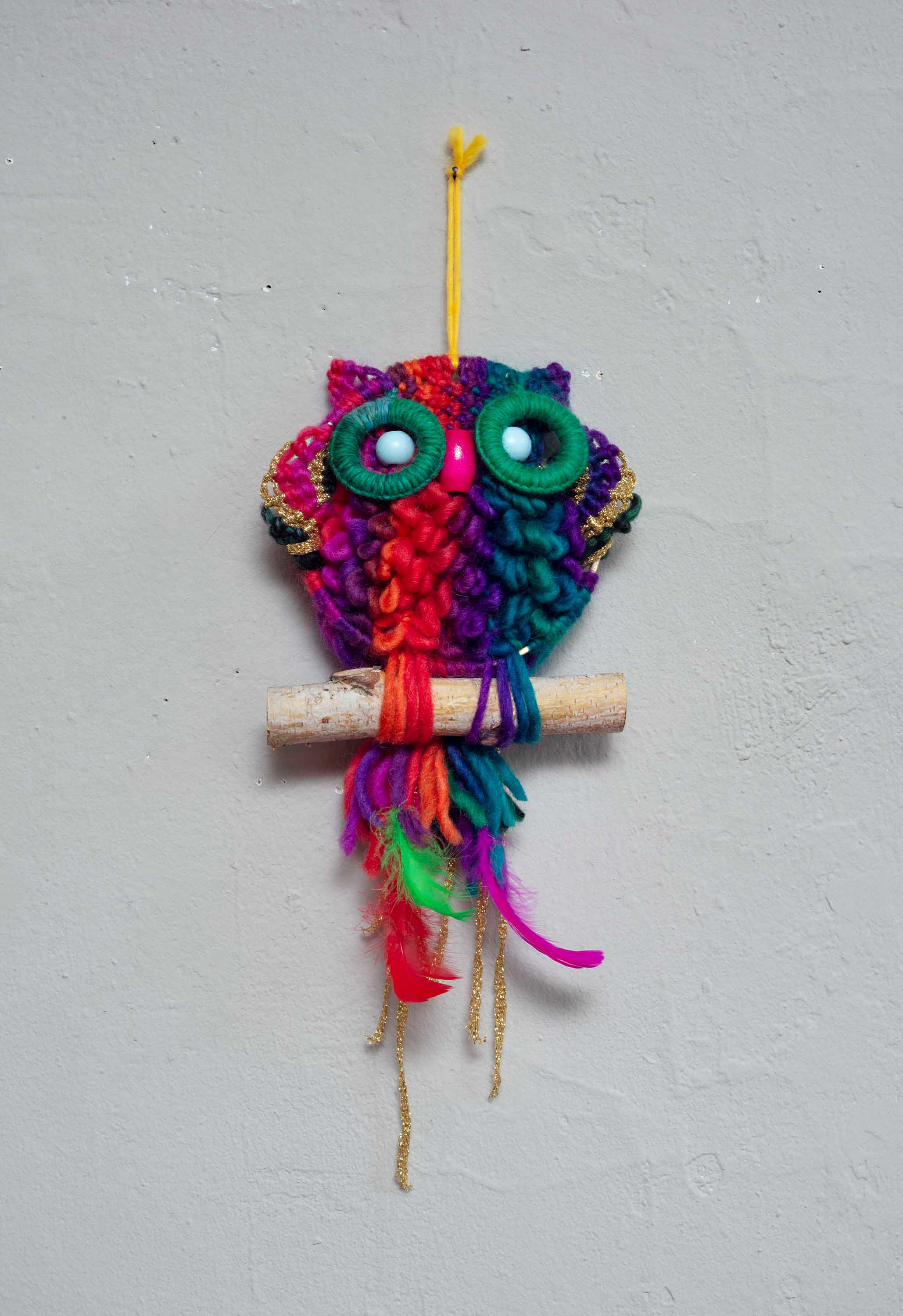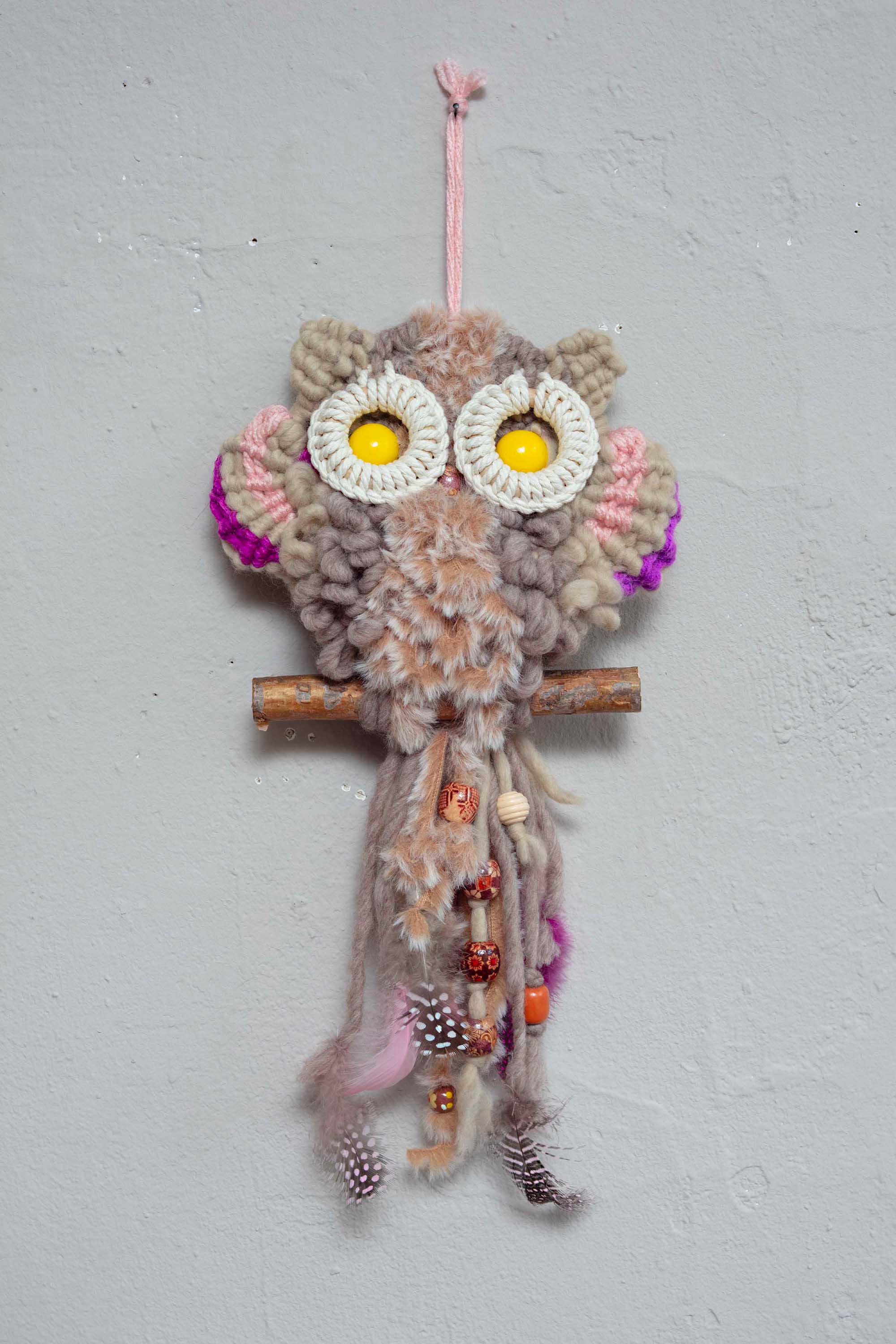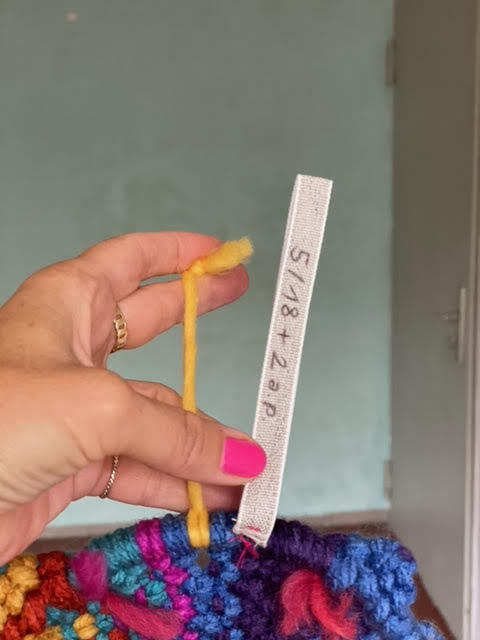 click / swipe to see all owls
Fotos Ludger Paffrath


Tine Furler arrangiert Collagen mitunter wandfüllend aus einer Kombination sehr unterschiedlicher Materialien. Ein anderes Mal wählt sie aus Magazinen Abbildungen aus. Bei den Serien der "fleurs du mal" oder der "cushions" z.B. entstammen diese dem "Playboy". Um den männlichen Blick auf Frauen aufs Korn zu nehmen, verändert sie die Ausgangsmaterialien und überträgt diese in kunsthandwerkliche, manchmal ursprungsfremde Techniken. Die Bildstrecken der sog. "Playmates" werden als Origamiblüten in selbst getöpferten Keramikvasen präsentiert oder finden sich als Stickbilder auf Zierkissen. Neue Konstellationen und Bedeutungsebenen entstehen, wenn Tine Furler den angewandten Künsten und der Populärkultur den Vorzug gibt.

Mit der 18-teiligen Unikatserie für Provinz: "Crazy Crafts Lady: The Owls" entdeckt die Künstlerin eine sehr alte, aus dem Orient stammende Knüpftechnik für sich. Ihre Makramee-Eulen können liebevolle oder zwiespältige Erinnerungen an die siebziger Jahre mit Muschelkalklampen und Pflanzenampeln wecken (oder an ihre Wiederkehr als Retro-Lifestyleaccessoires), haben aber mit deren naturbelassenen Jute- oder Hanfgarnlook wenig gemein. Furlers bunte, humorvolle Vögel sind handwerklich perfekt in Wolle ausgeführt, von sanften Erdtönen bis zu hell leuchtenden Farben. Allesamt sind sie Individuen, geschmückt mit bunten Federn, die uns humorvoll aus Kugelaugen entgegenblicken und in mindestens so vielen Varianten daherkommen, wie der Eule unterschiedliche Symbolik nachgesagt wird.

Wie so oft bestimmt der Kontext den Inhalt, und so sind Tine Furlers "owls" Mittler zwischen Kunst und Trivialem, zwischen den Mysterien der Kulturgeschichte und des Alltags.

Tine Furler, geboren 1972 in Offenburg, studierte an der Kunstakademie Düsseldorf und lebt in Berlin. Ihre Arbeiten wurden zuletzt gezeigt bei haah@Vickermann, Baden-Baden, Gregorzki Shows, Berlin , ERES Projects, München, Me Collectors Room, Berlin, Salon Dahlmann/Sammlung Miettienen u.v.a.

Tine Furler, born in Offenburg in 1972, studied at the Düsseldorf Art Academy and lives in Berlin. Her works have recently been shown at haah@Vickermann, Baden-Baden, Gregorzki Shows, Berlin, ERES Projects, Munich, Me Collectors Room, Berlin, Salon Dahlmann/Sammlung Miettienen etc.


Tine Furler sometimes arranges wall-filling collages from a combination of very different materials. Another time she selects images from magazines. The series "fleurs du mal" or the "cushions", for example, come from "Playboy". In order to target the male gaze on women, she changes the raw materials and transfers them to artisanal, sometimes unoriginal techniques. The photo spreads of the so-called "Playmates" are presented as origami flowers in self-made ceramic vases or are embroidered on decorative cushions. New constellations and levels of meaning emerge when Tine Furler gives preference to the applied arts and popular culture.

With the current 18-part unique series for Provinz: "Crazy Crafts Lady: The Owls" the artist discovers a very old knotting technique originating from the Orient. Her macramé owls can evoke fond or ambivalent memories of the 1970s shell lime lamps and hanging baskets (or their return as retro lifestyle accessories), but have little in common with the original natural jute or hemp yarn looks. Furler's colourful, humorous birds are perfectly crafted in wool, from soft earth tones to bold bright colours. All of them are individuals, adorned with colorful feathers, which look at us humorously with spherical eyes and come in at least as many variants as the owl is said to have different layers of symbolism.

As so often, the context determines the content, and so Tine Furler's "owls" are mediators between art and the trivial, between the mysteries of cultural history and everyday life.