Kirsi Mikkola mit
Akua Frimpomaa, Nam Kim & Pourea Alimirzaee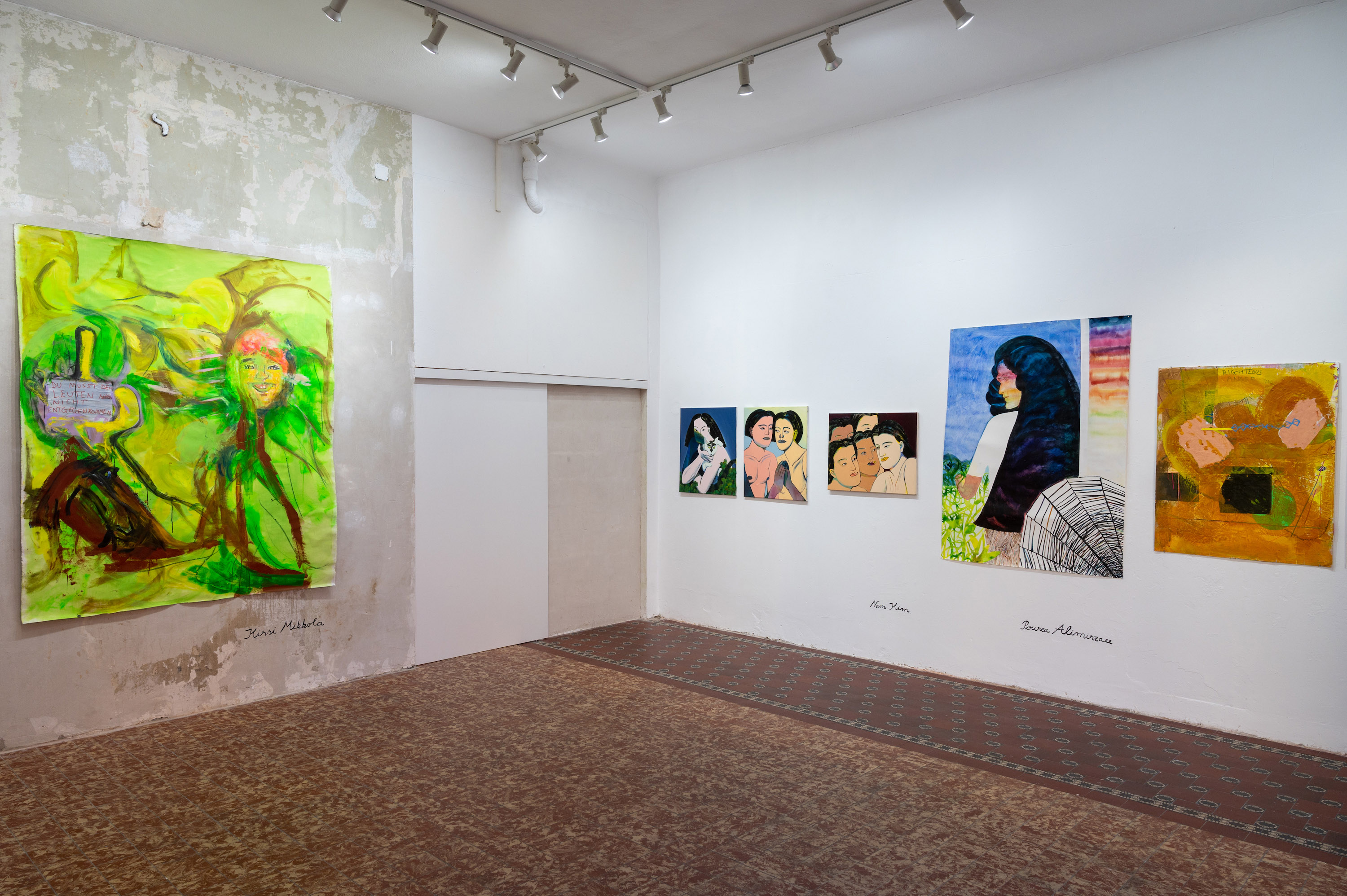 Provinz Showroom
Schmechtingstr. 38
44809 Bochum
24. April bis 6. Juni 2021
scroll down for english version
Bereits in unserer ersten Showroom-Ausstellung "Retour" war eine Serie von "Konstruktionen aus Papier" der finnischen Künstlerin Kirsi Mikkola zu sehen. Nun ist die in Berlin lebende und an der Akademie der bildenden Künste Wien lehrende Künstlerin ein weiteres Mal zu Gast bei Provinz und zeigt zusammen mit drei Student*innen, Nam Kim, Akua Frimpomaa und Pourea Alimirzaee, brandneue Gemälde, Zeichnungen, Collagen und Druckgrafiken. Letztere sind exklusiv für Provinz entstanden. Ausstellungen der renommierten Professorin mit ihrer Klasse sind keine Seltenheit, dabei viel beachtet und das nicht erst seit ihr Student Amoako Boafo jüngst am Kunstmarkt Furore machte. Mikkola begreift die Arbeit mit denen aus aller Welt stammenden jungen Künstler*innen als dynamischen Prozess, der die Fortentwicklung ihres eigenen Werkes und das der Studierenden gleichermaßen befördert. Freie Improvisation, Offenheit und Konfrontation sind Begriffe, die das expressive und farbintensive Werk Kirsi Mikkolas treffend beschreiben.
Nam Kim
, geboren 1991 in den USA, aufgewachsen in Südkorea, bevölkert ihre oft dunklen "Gartenlandschaften" formatfüllend mit flächig gemalten, meist nackten Figuren. Ihre Akte haben nichts Laszives, ebenso wenig scheinen die somnambulen Szenen symbolistische Rätselbilder zu sein. Die Dargestellten befinden sich eher in einem paradiesischen Zustand. Ihre zurückhaltende Mimik spricht von Zugewandtheit und Freundschaft untereinander. Dabei reduziert und ebenso stark farbig in Szene gesetzt wie die Versatzstücke der natürlichen Umgebung, kippt die Komposition mitunter aufs Interessanteste von der Figuration in die Abstraktion.
In den großformatigen Bilder von
Akua Frimpomaa
, 1985 in Wien geboren, treffen europäische und afrikanische Malereitraditionen aufeinander. Umrissbetonte Pflanzen- und Menschengruppen, expressive Zeichnungen im Wechsel mit fließenden Farbverläufen und eine erd-und naturfarbene Palette gehören zu den charakteristischen Mitteln ihrer häufig von Tumult geprägten Bilder.
Pourea Alimirzaee
, 1988 in Teheran geboren, hat vor seiner künstlerischen Ausbildung bereits ein Studium der technischen Informatik absolviert. In seinen oft grafisch angelegten Gemälden in kräftigen Farben zeigt sich der Künstler selbstbewußt, androgyn mit langen, wallenden Haaren und in klassischen Posen, als Denker, als Akt, im Seiten- oder Rückenporträt. Dabei beschäftigt sich Alimirzaee auf entwaffnend offene Art mit der Zuschreibung von geschlechtlichen Identitäten.
Während
Kirsi Mikkola
häufig figürliche Versatzstücke in ihre grundsätzlich abstrakten Kompositionen schleust, gehen ihre Schüler*innen mitunter den umgekehrten Weg. In ihrer gegenständlichen Malerei reist die Abstraktion als blinder Passagier mit. Gemeinsam ist allen die sichtbare Freude an der lebendigen, angstfreien Fortschreibung der Malerei mit naturgemäß ungewissem Ausgang. Nach einer Malerei-Baisse in den 1990er Jahren hatte sich im damals noch unbestritten tonangebenden "globalen Norden" eine in sich gekehrte, selbstreflexive Malereitradition entwickelt. Seitdem sind nicht nur neue Ausdrucksformen hinzugekommen (bzw. wurde die Selbstzensur hinsichtlich bestehender vergessen), sondern die Kunstwelt hat sich zwar langsam, aber sicher der Weltkunst geöffnet. Noch ist sicher nicht alles gleichberechtigt, noch lenkt mancherorts eher Exotismus den Blick als echtes Interesse an neuen, unbekannten Bildern. Aber der Prozess ist im Gang, und wir sind gespannt.
Zur Ausstellung erscheinen Editionen von
Nam Kim (Linolschnitte)
, Pourea Alimirzaee (Lithografien, demnächst!) und
Akua Frimpomaa (Unikatserie, Öl auf Papier)
.
Kirsi Mikkola with
Akua Frimpomaa, Nam Kim & Pourea Alimirzaee


Provinz Showroom
Schmechtingstr. 38
44809 Bochum
24 April – 6 June 2021
Our very first showroom exhibition,
Retour
, already included a series of "constructions of paper" by Finnish artist Kirsi Mikkola. A resident of Berlin who teaches at the Academy of Fine Arts in Vienna, the artist has now returned to Provinz, along with three of her students: Nam Kim, Akua Frimpomaa and Pourea Alimirzaee. Together, they will present brand new paintings, drawings, collages and prints, the latter of which were created exclusively for Provinz.
It is not uncommon for this renowned professor to exhibit along with her class – usually to great acclaim, and not just since her student Amoako Boafo recently caused a sensation on the art market. Mikkola views her work with young artists from around the world as a dynamic process that equally fosters her own work and that of her students. Free improvisations, openness and confrontation are fitting terms to describe the expressive work and intense colours of Kirsi Mikkola.


Born in the USA in 1991 and raised in South Korea, Nam Kim peoples her "Garden Landscapes" – often dark, always format filling – with two-dimensional characters, most of which are naked. Her nudes are far from lascivious; nor do the somnambulist scenes appear to be symbolic riddles. Rather, the characters appear to be in a paradisical state. Their reserved facial expressions speak of their attentiveness to, and friendship among, one another. As they are reduced and set in just as brilliant colours as the set pieces that make up the natural surroundings, the composition occasionally shifts from the figurative to the abstract.


In the large-format paintings of Akua Frimpomaa, born in Vienna in 1985, European and African painting traditions collide. Boldly outlined groups of plants and people, expressive drawings that alternate with flowing colour progressions and an earthy, natural palette are among the characteristic devices of her often tumultuous paintings.


Pourea Alimirzaee, born in Tehran in 1988, initially studied computer engineering before beginning his artistic education. In his paintings with their often graphic designs and vibrant colours, the artist depicts himself as a confident, androgynous being with long, flowing locks and in traditional poses, as a thinker, a nude, portrayed in profile or from behind. In his work, Alimirzaee takes a closer look at attributed gender identities in a disarmingly open manner.


While Kirsi Mikkola often smuggles figural set pieces into her typically abstract compositions, her students occasionally take the exact opposite approach, allowing the abstract to travel through their representational paintings as a stowaway of kinds. The artists all share the same, visible joy in continuing the art of painting, vibrantly, without fear, towards a conclusion that is uncertain by nature. After a slump in the 1990s, an introverted, self-reflexive painting tradition developed in the "global North", which at the time undeniably still led the field. Since then, however, new forms of expression have emerged (or rather, artists have forgotten to censor themselves with regard to existing forms) and the art world has slowly but surely opened up towards global art. The two are certainly not quite on equal footing yet; here and there, the eye is still guided by a sense of exoticism, as opposed to a real interest in new, unfamiliar paintings. However, the process is underway and we look forward to what the future will bring.


The exhibition is accompanied by editions by Nam Kim (linocuts), Pourea Alimirzaee (lithographies, soon!) and Akua Frimpomaa (series of unique paintings, oil on paper).
Translated by Emma Jane Stone
Gefördert durch /
supported by