Behrang Karimi
Bilder sprechen


27. Oktober – 4. Dezember 2022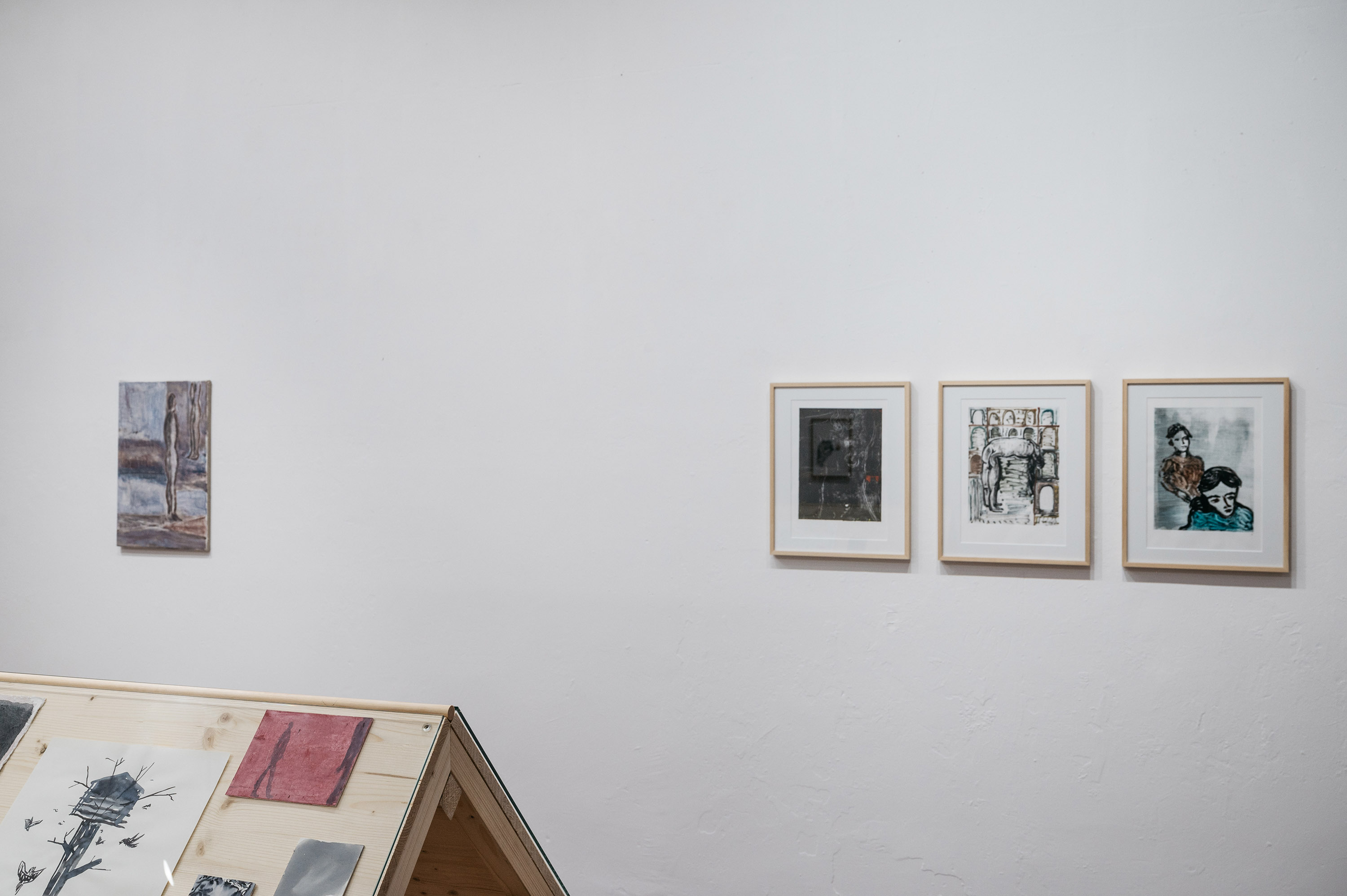 scroll down for english text
In seiner Ausstellung "Bilder sprechen" bei Provinz zeigt Behrang Karimi Werkgruppen von Papierarbeiten in unterschiedlichen Formaten und ein Gemälde. Karimi verwendet vielseitige Techniken, darunter Monotypien, Holz- und Linolschnitte sowie Gouachen. Zusammen eröffnen sie einen lebendigen Dialog mit Künstler und Werk. Neben häufig nur angedeuteten Landschaften und Ausblicken steht vor allem der Mensch im Mittelpunkt. Er erscheint als Porträt, in klassischen Posen, als liegender und sitzender Akt, vereinzelt oder in Gruppen. Der ihn umgebende Raum ist diffus. Einmal wird er durch eine lichtdurchflutete Tür angedeutet, ein anderes Mal durch eine weitere am Bildrand auftauchende Person. Statuettenhaft starr stehen sich zwei Menschen gegenüber, getrennt durch eine helle Fläche von Farbe, Wasser? Seine Figuren, ebenso die Szenerie, in der sie sich bewegen, erscheinen zart und brüchig. Immer erzählen sie kleine Episoden eines einzigartigen Augenblicks – wie der Wurm der zum Apfel kriecht – der, kaum dass man seine Tragweite erfasst, sich bereits wieder verflüchtigt hat.
Die
Holzschnittserie "Wie im Himmel so auf Erden"
zeigt den Mathematiker, Astronomen und Poeten Omar Khayyam (1048-1131), der den alten persischen Kalender nach dem Lauf der Sonne reformiert hat, bei der genauen Beobachtung der Sterne. Der rosa oder rote Hintergrund ist jeweils malerisch individuell bearbeitet. Behrang Karimis ausgeprägtes Interesse an mystischen und philosophischen Texten spiegelt sich in der Wahl dieser Motive wider. Mittelalterlichen Schriften der natur- und heilkundigen Benediktinerin Hildegard von Bingen zählen dazu, wie die der befreundeten Essayisten Michel de Montaigne und Etienne de la Boétie aus den Anfängen der Aufklärung. Das Hybride, die fließenden Übergänge von Beobachtung und Traum, von Ahnung und Wissen, von Sichtbarem und Unsichtbarem, von Macht und Ohnmacht zeichnet das eine wie das andere aus.


Sein Alltag als Familienvater bringt es mit sich, dass Karimi nur nachts bei Kunstlicht malt und seine Farbpalette entsprechend der Abendstimmung gedämpft ist. Oft wiederholt er dasselbe Motiv mehrfach und entscheidet dann: "Une image juste ou juste une image?" (Das "richtige" (wahre) Bild oder eben nur ein Bild"?, Jean Luc Godard). Nicht anders ergeht es dem Betrachter mit Karimis Arbeiten, die sich mit breit gesetzter, schwarzer und leuchtender Farbe behaupten, so das Bild einer Hand mit hell aufloderndem Streichholz. Es sind klare einfache Statements, die doch die gleiche doppelbödige Frage stellen. Da möchte man mit einem Zitat eines anderen Rheinländers, des Künstlers und Philosophen Bernhard Blume antworten: "Die reine Vernunft ist als reine Vernunft ungenießbar".

Behrang Karimi (geb. 1980 in Shiraz, Iran, lebt in Köln) hat von 2008 – 2015 an der Kunstakademie Düsseldorf bei Peter Doig studiert. Seine Arbeiten wurden international ausgestellt, z.B. 2022 bacchus madness walking experiences, Ermes, Ermes, Rom / Half Drunk and Close to Rope, Moon Grove, Rusholme, Manchester / The Age, Shahin Zarinbal, Berlin / Sweet Days of Discipline, Hannah Hoffman, Los Angeles // 2021 coming for your job and wifes, Tramps, London / SPIT, Braunsfelder, Köln / Von der schenkenden Tugend, Zarinbal Khoshbakht, Köln /Fifteen Painters, Andrew Kreps, New York // 2020 Zarinbal Khoshbakht, Köln / Any Day Now, Sprüth Magers, London (online) / Akademie Galerie, Museum Kunstpalast, Düsseldorf / Space is the Place, Paul Wiersbinski, Hybrid Installation, Berlin / Everything is Personal, Tramps, New York // 2018 Here, Here..., kuratiert von Tenzing Barshee, Braunsfelder Family Collection, Köln / Salon des Amateurs, Tramps, London uvm.

27. Oktober – 4. Dezember 2022


Wer der Geometrie unkundig ist, darf nicht eintreten, 2021
Öl auf Leinwand
60 x 39 cm
verkauft / sold
Beobachtung eines abbrennenden Streichholzes, 2022
Monotypie, Öl auf Papier, Unikat
42 x 29,7 cm
verkauft /
sold
Nude, night, 2022
Monotypie, Öl auf Papier, Unikat
42 x 29,7 cm
2400 €
Anfrage / request
Bent over built, 2022
Monotypie, Öl auf Papier, Unikat
42 x 29,7 cm
2400 €
Anfrage
/
request
Brüder, bredren, brothers, 2022
Monotypie, Öl auf Papier, Unikat
42 x 29,7 cm
verkauft / sold
Behrang Karimi: Bilder sprechen

In his exhibition at Provinz, Behrang Karimi presents a series of works on paper in various formats and one painting. Karimi uses a range of methods, including monotypes, wood- and linocuts and gouache; combined, they create a lively dialogue between the artist and his work. Landscapes and views are often merely hinted at – humans are the true heart of Karimi's work, appearing as portraits, in classic poses, as lying and seated nudes, alone and in groups. The room around them is diffuse, sometimes suggested by a doorway flooded with light, other times by another person appearing at the edge of the picture. Two people face one another, rigid as statues, separated by a light expanse of colour, of water? His figures seem delicate and brittle, as does the scenery they move within. They all portray small episodes within a unique moment – like the worm crawling towards the apple – that disappears almost before we have fully grasped its significance.

The woodcut series entitled "On Earth as it is in Heaven" ("Wie im Himmel so auf Erden") shows mathematician Omar Khayyam (1048-1131), who reformed the ancient Persian calendar by aligning it with the passage of the sun, as he studies the stars. Held in pinks and reds, each background has been painted individually. This choice of motifs reflects Behrang Karimi's marked interest in mystical and philosophical texts, which include the medieval scripts of Benedictine healer and botanist Hildegard of Bingen as well as texts from the early Age of Enlightenment by friends and essayists Michel de Montaigne and Etienne de la Boétie. Texts and images alike are characterised by their hybrid nature, their fluid transition between observation and dream, premonition and knowing, the visible and the invisible, power and powerlessness.

Life as a father means Karimi only paints by night, under artificial light; his subdued colour palette reflects the twilight atmosphere.


He often repeats the same motif again and again, before deciding, une image juste ou juste une image? ("A just image or just an image?", Jean Luc Godard.)

The viewer feels much the same when observing Karimi's works with their broad strokes in blacks and brilliant colours, such as the picture of a hand holding a match with a bright, blazing flame. These are clear, simple statements which still ask the same, ambiguous question. One is tempted to answer by quoting another Rhinelander, artist and philosopher Bernhard Blume: "Pure reason is unbearable as pure reason." ("Die reine Verunft ist als reine Vernunft ungeniessbar.")

Behrang Karimi (born in Shiraz, Iran, in 1980, lives in Cologne) studied under Peter Doig at the Düsseldorf Academy of Arts ("Kunstakademie Düsseldorf") from 2008-2015. His works have been exhibited internationally, e.g. 2022 bacchus madness walking experiences, Ermes, Ermes, Rome / Half Drunk and Close to Rope, Moon Grove, Rusholme, Manchester / The Age, Shahin Zarinbal, Berlin / Sweet Days of Discipline , Hannah Hoffman, Los Angeles // 2021 coming for your job and wifes, Tramps, London / SPIT, Braunsfelder, Cologne / Von der schenkenden Tugend, Zarinbal Khoshbakht, Köln /Fifteen Painters, Andrew Kreps, New York // 2020 Zarinbal Khoshbakht, Köln / Any Day Now, Sprüth Magers, London (online) / Akademie Galerie, Museum Kunstpalast, Düsseldorf / Space is the Place, Paul Wiersbinski, Hybrid Installation, Berlin / Everything is Personal, Tramps, New York // 2018 Here,Here..., curated by Tenzing Barshee, Braunsfelder Family Collection, Cologne / Salon des Amateurs, Tramps, London and many more.

Translated by Emma Jane Stone